Private lessons
"Lessons made-to-measure"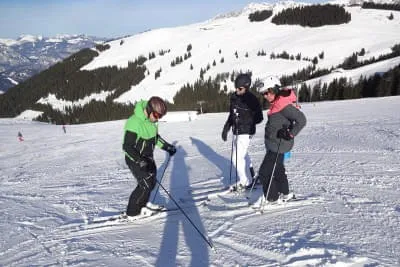 You want to book a ski or snowboard instructor just for yourself? Then VIP private lessons are your thing! You can choose how many hours you want, from 1.5-4 hours per day. 
Private lessons are great if you want to have the best results in the shortest amount of time, one-on-one or together with your friends/family.
Flexible course times for 1.5, 3 or 4 hours per day
Skiing with a pro that matches your exact needs
For both children & adults available
Meeting point flexible upon request
max. 5. participants
PRIVATE LESSONS
1,5 Hours Morning (from 09.00 am - 10.30 am)
€ 170,00
1,5 Hours Morning (from 10.30 am - 12.00 am)
€ 170,00
Each add. person
€ 40,00
2 Hours Afternoon (from 01.00 pm till 03.00 pm)
€ 180,00
3 Hours (9.15am - 12.15pm)
€ 310,00
Each add. person
€ 45,00
4 Hours = 1 Day
€ 350,00
Each add. person
€ 50,00
Book Now