Private lessons
Information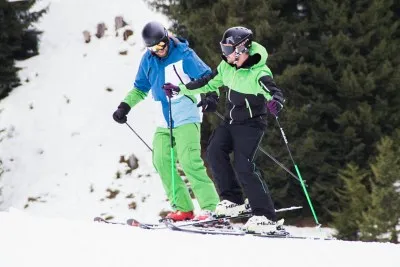 You want to book a ski or snowboard instructor just for yourself and/or your friends and family? Then VIP private lessons are your thing! You can choose how many hours you want, from 1h to 4h per day.
Private lessons are great if you want to have the best results in the shortest amount of time, one-on-one or in groups.
Variable course times from 1h to 4h per day
Skiing with a pro that matches your exact needs
For both children and adults
Meeting point flexible
PRIVATE LESSONS
1 Hour (only if available)
€ 75,00
Each add. person
€ 30,00
2 Hours Morning (from 10.00am - 12.00am)
€ 150,00
2 Hours Afternoon (from 1.00pm - 3.00pm)
€ 140,00
Each add. person
€ 35,00
3 Hours (9.30am - 12.30pm)
€ 200,00
Each add. person
€ 40,00
4 Hours = 1 Day
€ 235,00
Each add. person
€ 45,00
Big Day (5 hours a day starting at 9.00am)
€ 295,00
Variable course times possible by appointment!
Book Now